Annual Charity Concert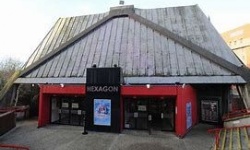 "Children Helping Children" at The Hexagon Theatre
Nuthatch and Heron Classes are joining pupils from a number of other Reading schools who are taking part in a music concert this evening at The Hexagon Theatre. This is an annual charity concert and we are very proud and pleased that our students are part of this wonderful event.
A tired but excited band of pupils and staff members arrived at school on Wednesday morning brimming over with pride after a very successful concert on Tuesday evening at The Hexagon. Thirteen schools entertained a full house with songs such as 'I'm A Believer' by The Monkees, 'Do, Re, Mi' from The Sound of Music and a special makaton- signed rendition of 'A Thousand Years' by Christina Perri, which our pupils performed brilliantly.
Well done to everyone who took part!