COVID-19 Update - 24th March 2020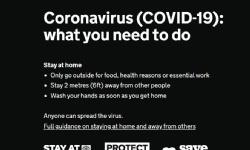 The Avenue School will be providing emergency care to a number of pupils whose parents are critical workers or the most vulnerable pupils, who cannot be looked after at home from Tuesday 24th March, following a deep clean.
Weekly Free School Meals food parcels will be available today.
Online home-learning packs (or hard copies if appropriate) will be provided by Asst Heads/Class Leads for pupils who are at home. These will be updated on a weekly basis.
Class Leads will make weekly contact (by email or phone) with all parents in their class, including for those whose child is coming into school. Please ensure we have both your current email and phone numbers to ensure we can communicate with you.
If a pupil is in school, then they do not need home learning as well.
We wish all our school community very best wishes, and thanks to our staff for their hard work.
Stay safe.
If you need any further advice please go to https://www.gov.uk/coronavirus