Infinity Colouring Project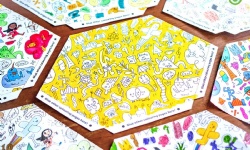 A message from one of our teachers:
We are going to be creating a school-wide Infinity Colouring Picture. It will be a great way to show that even though most of us are currently separated, we can still come together to make something beautiful!
Just print out the attached colouring sheet and have fun colouring your section of our puzzle. You can colour more than 1 if you wish! It would be great to have contributions from both adults and children.
I am going to collate all of the completed sheets together, and we will send out updates of the project in progress via our website and Facebook page. Make sure you include your name when you send your completed colouring sheet(s) to me, so we can give you a shout out when yours is added to the bigger picture! (Don't worry if it has to be folded to go into the post, I will sort it out and make sure it still looks beautiful).
Please send your completed colouring sheets to me at:
6 Woods Road
Caversham
Reading
RG4 6NA
Sending your picture via post would be better so that I have the full page and best quality, but if you would rather email it to me that is also fine – please just make sure that the photo of your colouring sheet is as 'straight' as possible, so it will still tessellate correctly with the other pictures. My email address is hillman@avenue.reading.sch.uk
There will be printed copies of the Infinity Colouring Sheets available outside the front of the school building from Tuesday 26th to Friday 29th May (half term week), between 9:30am and 3pm. Pupils/pupils' families and members of staff can collect these if they don't have access to a printer at home and would like to participate in the project. Please be aware of not arriving to collect the colouring sheets outside of the dates and times specified, as we are limiting the number of people on site in line with current social distancing and safety rules.
Stay safe and I look forward to receiving your colouring sheets!
Hannah